The Basics: Rocker Industries' Solenoid Valve Types. Rocker Industries produces all standard solenoid valve types, including: butterfly, cartridge, co-axial, in-line, latching, pilot operated, poppet, two-way, three-way and four-port solenoid valve designs.

Rocker Industries designs and manufactures hydraulic, fuel, and pneumatic solenoid valves that meet simplicity and efficiency requirements, while flexibly responding to customer needs for direct or pilot-operation, and incorporating variable voltage, flow, and pressure requirements.

The variety of solenoid valves available from Rocker Industries is limited only by the requirements of our aerospace, defense and commercial customers.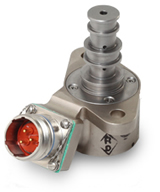 Mission Critical: Your Solenoid Valve Requirements. Rocker Industries understands each application has its own set of mission critical requirements. For some applications, durability, reliable repeatability, and quick response time matter most. Other applications will have different requirement hierarchies.

Rocker Industries works closely with each customer to match the best solenoid valve type and options with each application's specific requirements to achieve optimal operating results.

To meet customer's design review needs, Rocker Industries makes detailed engineering analysis available (including solid models), on custom designs. Validating the sufficiency of all requirements means that Rocker's commitment to customers and quality continues throughout the life of our solenoids and solenoid valves.