The Lightest, Fastest, Least Power-Consuming Solenoids and Solenoid Valves. Rocker Industries delivers the highest quality solenoids and solenoid valves for defense, aerospace, and commercial applications. Each solenoid and solenoid valve that Rocker produces is backed by over 100 years of Rocker engineering team experience, and the urgent devotion to customer satisfaction that is the hallmark of the Rocker Industries culture.
The Leaders' Supplier of Choice. When Air Force 1 is transporting the President of the United States, Rocker Industries' solenoids and solenoid valves are on board! Presidential transport is just one of the exciting programs using Rocker Industries solenoids and solenoid valves. Other current programs include: Boeing 787, Airbus A380, Unmanned Combat Assault Vehicle(UCAV) X47A Pegasus, General Atomics MQ-1 Predator drone and the Lockheed Martin F-35 Lightning II, and the Bradley Fighting Vehicle.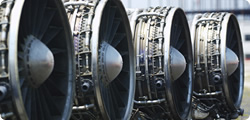 Leading aerospace, commercial and defense organizations – including Airbus, Boeing, Lockheed Martin, McDonnell Douglas, and Raytheon – rely on Rocker Industries as their supplier of choice to provide quality solenoid and solenoid valve solutions at a competitive price. Rocker Industries participates in industry leader partnership programs, such as Dock-to-Stock, KanBan, and Vendor Managed Inventory programs. Industry leaders value Rocker Industries' long tradition of engineering excellence and unwavering commitment to personalized customer partnerships, enabled by Rocker Industries' core capabilities:
Engineering Excellence. Rocker's experienced engineers employ state-of-the-art SolidWorks CAD, and FEA with 2D and 3D static and motion solvers.
Rapid Prototyping. Rocker can develop the ideal solenoid or solenoid valve for your application in just a few weeks.
Lean Manufacturing. KanBan and VMI capabilities.
In-house Testing. Rocker can complete all required testing including proof pressure, flow rate, pressure drop, force, thermal, environmental, response time, life cycle, and electrical testing.
Quality Assurance. ISO 9001, AS9100 certified.
A Proud Tradition. Since 1954, Rocker Industries has been designing and manufacturing the highest quality solenoids and solenoid valves for the aerospace, defense and commercial industries, at a competitive price.